A live pre-order page for the anticipated Samsung Galaxy SmartTag+ was recently spotted from one of the biggest electronics retailers in the United States was spotted. However, tech fans will still have to wait for more than a week for its earliest possible delivery date.
Samsung SmartTag+ release date
The SmartTag was one of the non-smartphone announcements Samsung presented last January during its first Galaxy Unpacked event of 2021. While the Tile-like tracker appeared in earlier leaks, some fans were surprised that it would be released with two models. Samsung immediately opened the pre-orders for the standard Galaxy SmartTag after its announcement, while the launch of SmartTag+ was slated at a later date.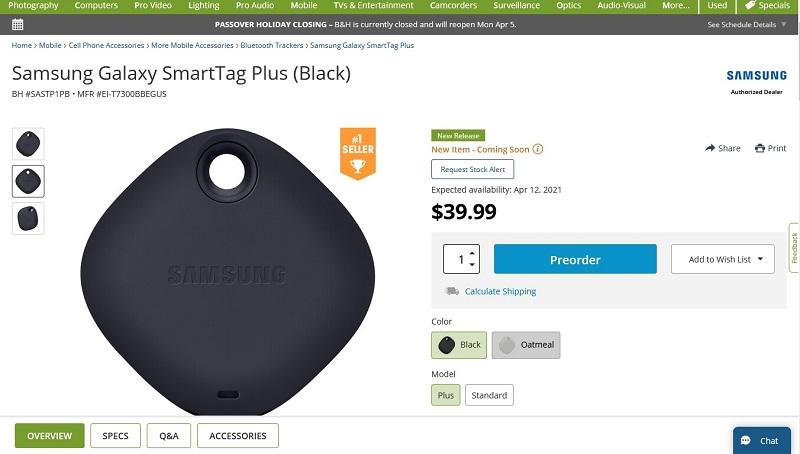 Screenshot from B&H
As of this writing, the official Samsung US online store does not list the Galaxy SmartTag+ yet as one of its available products. However, B&H has already added the "plus" model with an option to pre-order it for $39.99.
On the same page, the retailer notes that the device's "expected availability" is on April 12. While that gives Samsung fans a good ballpark on the tracker's release date, the actual release date could still change until Samsung makes an official announcement.
Samsung SmartTag+ specs, design
Based on Samsung's presentation last January and the Galaxy SmartTag+ product page on B&H's website, there is not much difference between the two models in terms of design. But what's under the hood will justify the $10 difference in their prices.
As previously announced, the standard model relies mainly on the Bluetooth Low Energy component so users can track everyday items (or even their pets). On the other hand, the Galaxy SmartTag+ is expected to launch with Bluetooth 5.0 connectivity and ultra-wideband support. The latter has been favored by avid tech fans as it is able to provide a more precise tracking function.
Samsung pairs the ultra wideband's capabilities with augmented reality "for more natural navigation," according to the product's listing on B&H. The same source also advertises the Galaxy SmartTag+ with "up to 5 months of battery life," adjustable volume, dust and water resistance with an IP53 rating, and 8 present ringtones.