Why South Africa's Constitution is under attack
Mar 18, 2017 07:14 am UTC| Insights & Views Law
South Africas Constitution, greatly lauded around the world and the product of Nelson Mandelas democratic transition of the mid-1990s, is under attack. Its being blamed in some quarters for the slow pace of socio-economic...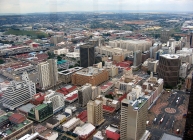 Prexit: as South Africa looks over the abyss who will blink?
Oct 13, 2016 08:14 am UTC| Insights & Views Politics Economy
Like the lemming that is about to throw itself off the proverbial cliff, South Africa appears unable to stop itself from preventing a self-inflicted act of such monumental folly that it could easily send Africas second...