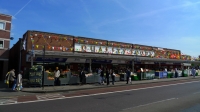 Inside the British Asian Brexit vote – and why it contains a few surprises
Feb 17, 2017 00:37 am UTC| Insights & Views Politics
Months on from the EU referendum, our understanding of the Leave vote is still patchy in certain areas. Weve learnt that older people and the less affluent were more likely to choose Brexit, but we know less about how the...
Has Angela Merkel made German integration issues worse by letting in a million refugees?
Aug 16, 2016 14:54 pm UTC| Insights & Views Politics
Sex attacks in Cologne and other German cities; an attempted suicide bombing in Ansbach; a train stabbing spree in Wrzburg. These crimes have left a growing number of Germans thinking the previously unthinkable: that...