US election: what do the Iowa results actually mean?
Feb 02, 2016 11:10 am UTC| Politics
The first US state to vote for the parties presidential nominees has spoken, and the results have shaken up an already chaotic race. The Iowa caucuses delivered a blow to Republican frontrunner Donald Trump, who came in...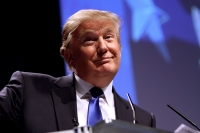 Why Donald Trump really does need Sarah Palin
Jan 20, 2016 12:33 pm UTC| Politics
With the Iowa caucuses less than two weeks away, former Alaska governor and vice-presidential candidate Sarah Palin has endorsed Donald Trumps bid to become the Republican nominee for president. Palin and Trump are, in...