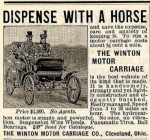 In a driverless future, what happens to today's drivers?
Jan 13, 2016 15:50 pm UTC| Insights & Views Technology
Self-driving cars are becoming a very real technology. The latest Tesla car has an autopilot feature. The CEO of Uber has stated that he will buy every self-driving car Tesla can produce for a year (about 500,000). The...