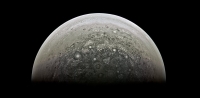 It's been a turbulent start, but Juno is now delivering spectacular insights into Jupiter
Dec 06, 2016 03:55 am UTC| Science
There was much excitement when the Juno spacecraft successfully arrived at Jupiter in July, after a five-year journey through the solar system. A perfect engine firing placed the solar-powered spacecraft into just the...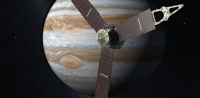 NASA's Juno arrives at Jupiter to lift its cloudy veil – but first it must survive the hostile environment
Jun 30, 2016 14:46 pm UTC| Science
A burst of flame will streak across the skies of Jupiter in the early hours of July 5 as humankinds newest robotic explorer arrives at the giant planet. NASAs Juno spacecraft will be entering the unknown, penetrating deep...