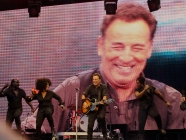 Does the First Amendment protect religious freedom laws?
Apr 12, 2016 12:34 pm UTC| Insights & Views Law
The Boss is boycotting North Carolina. Bruce Springsteen canceled a planned April 10 show in Greensboro to show solidarity with those protesting the passage of HB2, which bars local governments from protecting LGBT...