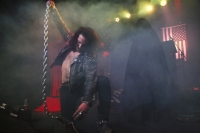 Can a burgeoning satanic movement actually effect political change?
Apr 20, 2016 06:17 am UTC| Life
Robert Eggers period horror film The Witch has been one of the surprise hits of 2016. Its even gained a second wind since its February 23 release: the first weekend of April it played on 666 screens around the country,...