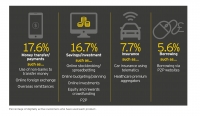 Three Areas of FinTech Innovation For 2016
Apr 05, 2016 09:10 am UTC| Technology Digital Currency
Its been over 17 years since new financial technology completely changed the game. That being PayPal, an online payments system that helped the fledgling eCommerce concept become a hundred billion dollar industry in the US...

Bitcoin's Rapid Growth Likely To Continue Across the Board
Feb 19, 2016 12:44 pm UTC| Insights & Views Digital Currency
Bitcoins journey from 2009 has been long and difficult, but over the last 6 months itsdollar pricehas risen by nearly 100% - from $209.13 onAugust 24thto $403.74 on February 16th. Although its popularity has essentially...