Russia's Ukraine invasion won't be over soon – and Putin is counting on the West's short attention span
Jun 23, 2022 16:16 pm UTC| Politics
As Russias war in Ukraine becomes a quagmire of attrition, Western leaders are slowly coming to two realisations about Vladimir Putins intentions. First, Russias war against Ukraine wont be over soon, and is likely to...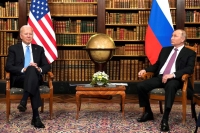 The Biden-Putin summit: no magic reset of relations, but no hitting the snooze button, either
Jun 20, 2021 12:23 pm UTC| Politics
Much speculation surrounded the lead up to the just concluded summit in Geneva between US President Joe Biden and his Russian counterpart, Vladimir Putin. Coming after a NATO meeting where Biden reaffirmed his...