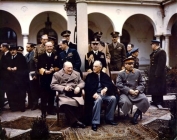 Who won the war? We did, says everyone
Aug 15, 2019 17:39 pm UTC| Insights & Views
Ask any of the few remaining World War II veterans what they did during the war and youre likely to get a humble answer. But ask the person on the street how important their countrys contribution to the war effort was and...
Personalities are like traditions – unique patterns of behaviour that build over a lifetime of improvisation
Apr 27, 2019 06:20 am UTC| Insights & Views Health
The question of whether personality is the result of nature or nurture has plagued researchers and the general public for decades. What we do know is that we are all unique, each with a distinctive pattern of speech,...