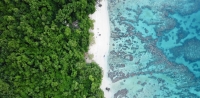 El Niño has rapidly become stronger and stranger, according to coral records
May 07, 2019 03:08 am UTC| Insights & Views Nature
The pattern of El Niño has changed dramatically in recent years, according to the first seasonal record distinguishing different types of El Niño events over the last 400 years. A new category of El...
Is Australia's current drought caused by climate change? It's complicated
Jun 09, 2018 01:14 am UTC| Insights & Views Nature
Much of southern Australia is experiencing severe drought after a very dry and warm autumn across the southern half of the continent. Australia is no stranger to drought, but this recent dry spell, and Prime Minister...