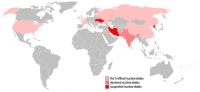 Could the US win World War III without using nuclear weapons?
Apr 20, 2018 05:59 am UTC| Insights & Views
In the last few years, as the US, Russia and China test each others patience and strategic focus, speculation about the chances of another world war has hit a new high. But many of the people seriously engaged in this...