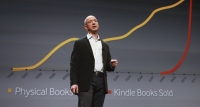 Will Amazon be your next bank and health insurance?
Apr 03, 2018 07:27 am UTC| Insights & Views Technology
One of Mr. Rockefellers most impressive characteristics is patience. This 1902 assertion by pioneering journalist Ida Tarbell described John D. Rockefeller, one of the wealthiest men in the world in the early 20th...