Women health-care volunteers have no upward mobility
Sep 30, 2018 22:08 pm UTC| Insights & Views Health
Women health-care volunteers in low-income countries such as Afghanistan, Nepal and Ethiopia play a vital role in the health-care system, yet they are undervalued and under trained. Many community health programs use...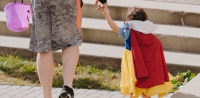 Sexual assault and the princess industry are all part of the same system
Jan 22, 2018 14:16 pm UTC| Insights & Views Life
Since Harvey Weinsteins case, sexual harassment and sexual assault have been condemned by almost everyone. The #MeToo movement went viral and thousands agreed with it. But recently, a backlash to #MeToo led by French...