Women candidates break records in the 2018 US mid-term elections
Nov 08, 2018 16:49 pm UTC| Insights & Views Politics
The 2018 mid-terms broke the records on female candidates in US elections. More than 20 women were on the Senate ballot, while more than ten times that number stood for the House of Representatives. If we also consider...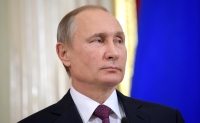 How the mothers of dead soldiers may be what reins in Vladimir Putin's ambitions
Jan 22, 2018 13:41 pm UTC| Insights & Views
Vladimir Putin seeks to present an image of Russia as a country that is strong, decisive, and able to reshape the world to its own ends. One of Moscows favourite tactics is to use military intervention even while Russian...