Before hitting the road, self-driving cars should have to pass a driving test
Feb 22, 2018 12:47 pm UTC| Insights & Views Technology
What should a self-driving car do when a nearby vehicle is swerving unpredictably back and forth on the road, as if its driver were drunk? What about encountering a vehicle driving the wrong way? Before autonomous cars are...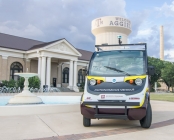 Are self-driving cars the future of mobility for disabled people?
Oct 08, 2017 10:14 am UTC| Insights & Views Technology
Self-driving cars could revolutionize how disabled people get around their communities and even travel far from home. People who cant see well or with physical or mental difficulties that prevent them from driving safely...