How AI and robots will help safeguard our offshore energy infrastructure in the future
Aug 19, 2019 01:21 am UTC| Insights & Views Technology
The modern world depends on the smooth provision of vital services such as energy, transportation, telecommunications, food, water and healthcare. But the systems underpinning these sectors are increasingly complex and...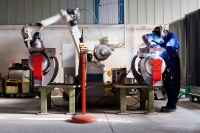 The new industrial revolution: robots are an opportunity, not a threat
Aug 11, 2017 05:04 am UTC| Insights & Views Technology
Invasion. Takeover. These are the kind of words that have been bandied about in news headlines about robotics and artificial intelligence in the last few years. The coverage has been almost relentlessly negative, focusing...