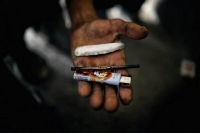 Drug related deaths are at their highest level in 25 years
Aug 02, 2017 17:37 pm UTC| Insights & Views Health
According to new data from the UKs Office for National Statistics (ONS), last year saw the highest number of drug-related deaths since records began in 1993. Over half of these deaths involved an opiate such as heroin....
New Home Office drug strategy, same old rhetoric
Jul 18, 2017 13:07 pm UTC| Insights & Views Health
The Home Office has just published a new drug strategy. The last one was published by Theresa May (then home secretary) seven years ago. The world has changed a lot in that time not least for May and so have drugs and...