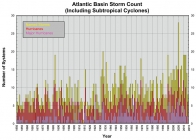 Is Hurricane Harvey a harbinger for Houston's future?
Aug 28, 2017 12:56 pm UTC| Insights & Views Nature
Over the past week we have seen two major tropical storms devastate different parts of the world. First Typhoon Hato struck Hong Kong and Southern China killing at least a dozen people. And over the weekend Hurricane...
Are heatwaves 'worsening' and have 'hot days' doubled in Australia in the last 50 years?
Jun 19, 2017 16:01 pm UTC| Nature
The release of the Finkel report has refocused national attention on climate change, and how we know its happening. On a QA episode following the reports release, Climate Council CEO Amanda McKenzie said that weve...