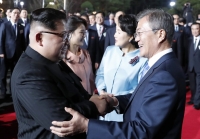 North and South Korea met - but what does it really mean?
Apr 29, 2018 14:02 pm UTC| Insights & Views
The moving footage of South Korean President Moon Jae-in and North Korean leader Kim Jong-un provided rich symbolism for the negotiations of the third inter-Korean summit, held at Panmunjom on Friday. While there was no...
The Belt and Road Initiative: China's vision for globalisation, Beijing-style
May 19, 2017 04:39 am UTC| Insights & Views
Chinas Belt and Road Initiative (BRI) is a multifaceted economic, diplomatic and geopolitical undertaking that has morphed through various iterations, from the New Silk Road to One Belt One Road. The BRI imagines a...