How Elvis permanently changed American pop culture
Aug 15, 2017 12:55 pm UTC| Entertainment
Its been 40 years since Elvis Presley last swivelled his hips, before his untimely death in 1977 at the age of 42. To date, Elviss singles including Hound Dog, Blue Suede Shoes, and Suspicious Minds as well as...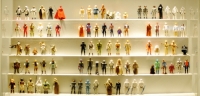 How Star Wars kick-started modern toy collecting
May 04, 2017 12:02 pm UTC| Insights & Views Life Entertainment
On 25 May, 1977 Star Wars Episode IV: A New Hope opened in movie theatres across America. The now iconic science fiction film has lasted the test of time, spawning two sequels Episode V: The Empire Strikes Back (1980) and...