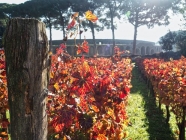 Pompeii is famous for its ruins and bodies, but what about its wine?
Nov 08, 2020 11:12 am UTC| Business
Pompeii is famed for plaster-cast bodies, ruins, frescoes and the rare snapshot it provides of a rather typical ancient Roman city. But less famous is its evidence of viticulture. Wild grapevines probably existed across...