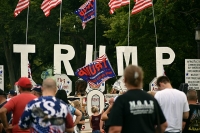 The legitimacy of the US Supreme Court put to the test of its conservatism
Jan 06, 2021 04:18 am UTC| Law
The outcome of the 2020 US presidential election is no longer in doubt: Joe Biden and Kamala Harris won, taking 306 Electoral College votes, well above the 270-vote threshold ironically, the same number that Donald Trump...
The underappreciated and critical Catholic vote in the 2020 US presidential election
Oct 15, 2020 14:45 pm UTC| Politics
In the aftermath of the 2016 US presidential election, political analysts focused considerable attention on white Evangelicals support for Donald Trump. Less examined was the critical role of the Catholic vote in the three...