The chemicals in firefighting foam aren't the new asbestos
Oct 10, 2017 08:13 am UTC| Insights & Views Science
This weeks ABC Four Corners episode investigated contamination at defence force sites and surrounding aquifers with chemicals called perfluoroalkyl acids or PFAAs. Around 18 sites are reported to be affected, with the...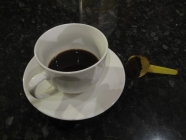 Should over 50s avoid that afternoon coffee? Maybe.
Jan 13, 2017 04:10 am UTC| Health
Sleep is good. This is one thing both experts and the person in the street can agree on about that knitter up of the unravelled sleeve of care [1]. Getting decent sleep not only leaves you feeling refreshed, but lack of...