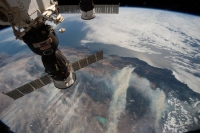 Wildfire smoke is becoming a nationwide health threat
Nov 26, 2018 17:05 pm UTC| Insights & Views Health
The impacts of recent forest fires in California reach well beyond the burned areas. Smoke from the Camp Fire created hazardous air quality conditions in San Francisco, more than 170 miles to the southwest but it didnt...
Can we rely on DIY air pollution sensors?
Dec 02, 2016 05:24 am UTC| Technology
Until recently, measuring air pollution was a task that could be performed only by trained scientists using very sophisticated and very expensive equipment. That has changed with the rapid growth of small, inexpensive...