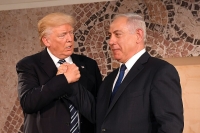 Biden and Trump agree on strong US-Israel relations – Bernie, not so much
Mar 16, 2020 06:02 am UTC| Politics
President Donald Trump has claimed for himself the title of historys most pro-Israel U.S. president, while characterizing his Democratic opponents as radicals seeking to destroy the special bond between the United States...
In the terrorism fight, Trump has continued a key Obama policy
Jan 27, 2020 03:20 am UTC| Insights & Views Politics
President Donald Trump has rescinded, reversed or otherwise ended many of former President Barack Obamas signature policies but not a prominent one. When it comes to fighting terrorism, the current commander-in-chief...