How to cope with extreme heat days without racking up the aircon bills
Jan 29, 2020 06:14 am UTC| Health
Summer in Australia is getting hotter. Extreme heat events, with daytime temperatures over 35 degrees Celsius, are becoming more common and we are getting more of these days in a row. We all need to prepare ourselves,...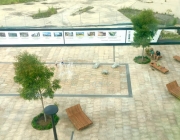 Keeping the city cool isn't just about tree cover – it calls for a commons-based climate response
Sep 17, 2019 17:21 pm UTC| Insights & Views Life
This story is part of Covering Climate Now, a global collaboration of more than 250 news outlets to strengthen coverage of the climate story. A recent report by the Greater Sydney Commission singles out urban heat as...