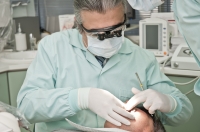 Can I still go to the dentist? How coronavirus is changing the way we look after our teeth
Apr 04, 2020 06:58 am UTC| Health
The coronavirus pandemic is changing the way we access health care, and dental care is no exception. Dentists are no longer allowed to provide a raft of care, such as regular check-ups and tooth whitening, to minimise...
Air travel spreads infections globally, but health advice from inflight magazines can limit that
Jul 18, 2019 07:21 am UTC| Insights & Views Health
Travel safe, travel far, travel wide, and travel often, says Nomadic Matt, the American who quit his job to travel the world, write about it and coach others to do the same. But theres a downside to all this travel,...