Students become school boiler-room sleuths to assess climate change risks
Dec 03, 2019 03:33 am UTC| Insights & Views Nature
​In the fall of 2012, New York City received the brunt of an unprecedented storm. In the aftermath of Hurricane Sandy, also referred to as Superstorm Sandy, the stock market closed for two days. Some of the citys subway...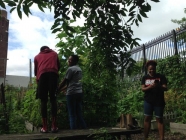 At a New York City garden, students grow their community roots and critical consciousness
Jul 14, 2019 13:13 pm UTC| Insights & Views Life
Iris, a high school student in New York City, took a course aimed at preparing public school students for college. As part of the course, she visited the Park Slope Food Coop, among the oldest member-owned businesses in...