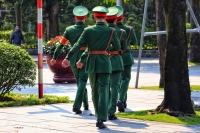 The Communist Party claims to have brought prosperity and equality to China. Here's the real impact of its rule
Jul 01, 2021 03:42 am UTC| Politics
The Chinese Communist Party (CCP) is in full swing to prepare for the 100th anniversary of its founding this week, with an intense publicity push to crow about its achievements. However, the CCP has little to celebrate...
Thirty years on, China is still trying to whitewash the Tiananmen crackdown from its history
Jun 04, 2019 04:59 am UTC| Insights & Views Politics
General Wei Fenghe, Chinas defence minister, surprised the world over the weekend. In a speech at Singapores Shangri-La Dialogue an annual Asian security defence summit he said the Chinese government made the correct...