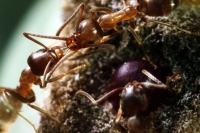 Invasive ants: federal budget takes aim but will it be a lethal shot?
Apr 05, 2019 10:16 am UTC| Insights & Views Nature
Amid all the usual items we expect to see in the federal budget was one that raised eyebrows: A$28.8 million for three ant eradication programs. Yet amid the inevitable media puns about the government upping the ant-e,...