This week: How the economies of China and the United States will affect what happens in our own.
---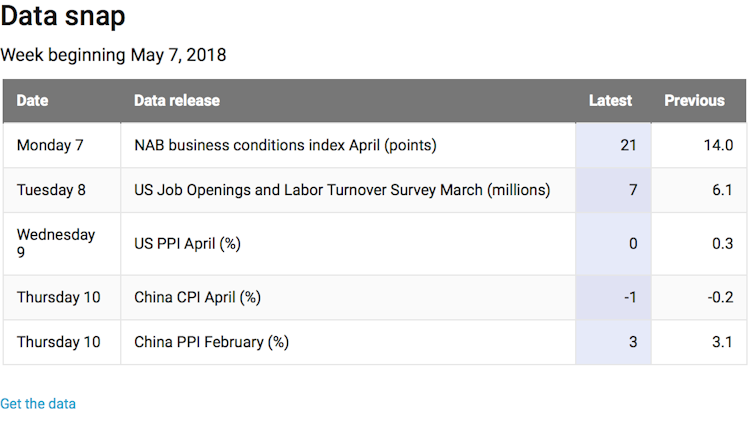 Business conditions in Australia have been strong enough to see a surge in company tax revenue that led Treasurer Scott Morrison to outline cuts to personal income taxes over the next seven years in Tuesday's federal budget.
Those same robust business conditions were reflected in the National Australia Bank Business Conditions Index which was up sharply in April to 21 points (up 6 points from the previous month). This puts it at the highest level in twenty years.
NAB chief economist Alan Oster said of the figures:
The record high in the April survey simply reinforces what has been evident since the middle of last year, that business activity in Australia is robust…I see the business survey as indicative as why the government appears to be rolling in corporate tax revenue.
In the United States, the Job Openings and Labor Turnover Survey in March showed a surge of job openings - up 472,000 to 6.55 million. That was the highest reading on record. It also showed more workers voluntarily leaving jobs. This is generally regarded as strong sign of worker confidence and is indicative of looming wage inflation.
The US Producer Price Index rose just 0.1% in April according to the Bureau of Labor Statistics, much lower than estimates of 0.3%, the level of growth in March. This put the index up 2.6% over the last 12 months, down from 3.0%.
This eased concerns about rising inflation that have been a major focus of discussions about interest rates at the Federal Open Market Committee at recent meetings. That could make the Fed less likely to raise rates quickly, though the tightening path still seems likely.
All eyes will be on the May 10, inflation statistics release to see if there is less heat than the Fed has seemed to fear, especially with unemployment now running at 3.9%.
Adding to this, China's Producer Price Index dropped by 0.2% from February, putting the annual rate at 3.1%, the weakest level since October 2016.
Economists were looking for an annual increase of 3.2%, down from 3.7% in February. Because China is such a significant global exporter, the lower Producer Price Index should ease any inflationary pressures in other countries. In other words, China is exporting less inflation.
China's Consumer Price Index actually fell 1.1% last month, putting the annual rate at positive 2.1%. Last month's figures in part reflect the timing of Chinese New Year, so one shouldn't read too much into them. On the other hand, any softening of the Chinese economy is a big deal for Australian exporters and our economy generally.
The coming months overseas will be very revealing. We will get a better handle on whether there are genuine inflationary pressures in the US - or whether perhaps there is a new normal. That will affect short-term interest rates, but also says something about where those rates are likely to move back to in the cycle.
We will also get a better fix on the Chinese economy, at least in terms of growth numbers. What still remains opaque is the health of China's financial sector. That remains a significant concern.
Both the US and China will factor heavily into two key things in Australia. The first is, of course, the RBA's interest rate decisions later this year. The second is the key number in the federal budget - the 3.0% real GDP growth assumption that underpins the forecast return to surplus and the rationale for the personal income tax plan.
At least for the next few months, what happens overseas will be more important for the Australian economy than domestic factors per se.

Richard Holden does not work for, consult, own shares in or receive funding from any company or organisation that would benefit from this article, and has disclosed no relevant affiliations beyond their academic appointment.