'The way they manipulate people is really saddening': study shows the trade-offs in gig work
Jun 21, 2017 15:03 pm UTC| Insights & Views Business
Uber driver Michelle, thinks her job is fantastic when shes only after part-time hours. But shes given it a couple of months and she says shes not getting anywhere. To be able to earn A$800 she has to actually pull in...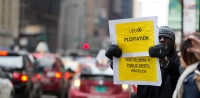 The 'Uberisation' of work is driving people to co-operatives
Sep 28, 2016 15:41 pm UTC| Insights & Views Technology Business
Street protests against popular sharing economy firms Uber and Airbnb have become commonplace around the world. Both these sector giants are succeeding in circumventing market regulations in many markets in areas including...