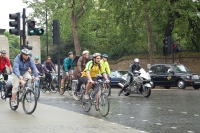 Which London mayoral candidate does most to make cycling mainstream?
Apr 27, 2016 21:46 pm UTC| Insights & Views Politics
In London, cycling is starting to be seen as a key part of the solution to the citys looming transport problems. We simply cant go on in the old way if we dont cut car use, the city will choke and traffic will to grind to...