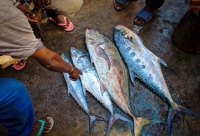 Blockchains could help restore trust in the food we choose to eat
Jul 19, 2016 08:03 am UTC| Technology
Companies around the world are exploring blockchain, the technology underpinning digital currency bitcoin. In this Blockchain Revolutionseries, we investigate the many possible use cases for the blockchain, from the novel...
Blockchain could challenge the accepted ways we shape and manage society
Jan 26, 2016 12:41 pm UTC| Insights & Views Digital Currency
In only a few years, digital currency bitcoin has emerged from the shadows to become something debated by politicians and pondered by economists. Now it is blockchain, the technology that makes bitcoin possible, that is...