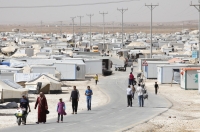 What does the UN want to achieve from the first World Humanitarian Summit?
May 23, 2016 08:16 am UTC| Insights & Views
In 2016, nearly one in five of the 7.4 billion people on our planet live in fragile situations. This represents the highest level of suffering since World War II and numbers are set to increase as conflict, violent...
Why child trafficking spikes after natural disasters – and what we can do about it
Mar 22, 2016 16:47 pm UTC| Insights & Views Life
When a 7.8 magnitude earthquake struck Nepal in April 2015, it killed well over 8,000 people and turned much of the country into a disaster zone. 17 days later, as recovery operations were getting established, a 7.3...