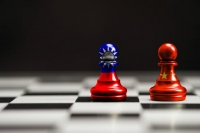 'One China' principle: what this interesting aspect of diplomacy means for China and Taiwan
Dec 04, 2021 01:56 am UTC| Politics
The tense triangular relationship between the US, China and Taiwan has emerged once again amid escalating military tensions across the Taiwan Strait. The status of the small, densely populated island off the southeast...
Politicians need to be braver about the biggest issues – like our consumption of meat
Nov 26, 2018 17:02 pm UTC| Insights & Views Politics
Scientists, environmentalists and animal rights activists have said it for many years. Now conclusive analysis has confirmed their argument. The global meat industry not only damages our health and is ethically dubious ...