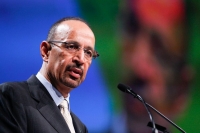 Saudi Arabia is allying with Russia to shore up oil prices as OPEC's power wanes
Dec 08, 2018 10:50 am UTC| Insights & Views
The Organization of the Petroleum Exporting Countries likes to look united. Thats evident when OPEC leaders meet in Vienna at the end of each year to decide how much oil its members will aim to produce the next year....
Trump's new Iranian oil sanctions may inflict pain at home without serving strategic objectives
Nov 14, 2018 12:11 pm UTC| Insights & Views Politics
The Trump administration has formally imposed new sanctions on Iran aimed at hindering Irans oil exports a move that had been in the works for six months. The U.S. government has also made a second, more surprising,...