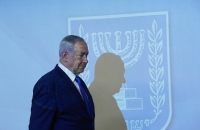 Netanyahu leaves behind a complex legacy in Israel. His successor will need to deliver change — and fast
Jun 14, 2021 11:42 am UTC| Politics
Israels 36th government was approved today, with a slim majority of 6059 in the Knesset (parliament). The new prime minister is the leader of national-religious party Yamina, Naftali Bennett. A religious person, former...
Moving the Australian embassy to Jerusalem makes sense: here's why
Oct 17, 2018 21:54 pm UTC| Insights & Views
Apparently looking to garner the support of Jewish constituents behind the Liberal candidate, David Sharma, in the upcoming critical Wentworth by-election on October 20, Prime Minister Scott Morrison has said he will...