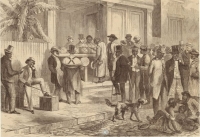 US Congress could use Reconstruction-era civil rights powers to protect black lives today
Jun 21, 2020 11:44 am UTC| Insights & Views Law
The man in the White House is erratic, vain, and conspiratorial. In a speech to celebrate George Washingtons birthday, the president mentioned himself 200 times in 60 minutes. The House of Representatives voted to impeach...
US midterm elections: the dirty tricks used by parties to skew results in their favour
Oct 17, 2018 22:15 pm UTC| Insights & Views Politics
As the US midterm elections approach, its important to understand how the US has undergone a profound intensification in racially polarised partisanship. Race and attitudes about race closely align with party identities...