UK election 2019: the parties' competing visions for Britain's place in the world
Dec 01, 2019 03:22 am UTC| Insights & Views Politics
Unusually for a UK election campaign, a key issue of foreign policy is central to the debate. Although previous elections have followed major foreign policy controversies in 1959 following the Suez invasion, 1983 after...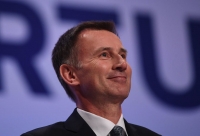 Will Jeremy Hunt's Soviet Union comments affect Brexit talks? Experts react
Oct 04, 2018 14:31 pm UTC| Insights & Views
Foreign secretary Jeremy Hunt caused a stir after his Conservative party conference speech, during which he compared the European Union to the Soviet Union, stating: What happened to the confidence and ideals of the...