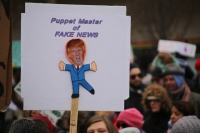 Governments are making fake news a crime – but it could stifle free speech
Jul 08, 2019 23:44 pm UTC| Insights & Views Law
The rapid spread of fake news can influence millions of people, impacting elections and financial markets. A study on the impact of fake news on the 2016 US presidential election, for instance, has found that fake news...
Media watchdog's finding on Sunrise's Indigenous adoption segment is justified
Sep 09, 2018 20:38 pm UTC| Insights & Views
In March this year, Sunrise aired a panel discussion about the removal of Indigenous children from dangerous or abusive family situations. It wrongly claimed that Indigenous children could not be fostered by...