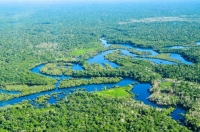 Earth's wilderness is vanishing, and just a handful of nations can save it
Nov 04, 2018 14:17 pm UTC| Insights & Views Nature
Just 20 countries are home to 94% of the worlds remaining wilderness, excluding the high seas and Antarctica, according to our new global wilderness map, published today in Nature. A century ago, wilderness extended...
New map shows that only 13% of the oceans are still truly wild
Aug 01, 2018 13:58 pm UTC| Insights & Views Nature
Just 13% of the worlds oceans are now free from intense human activities such as fishing, according to a new map of ocean wilderness areas. Our research, published in the journal Current Biology, shows that only 55...