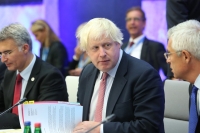 Soft Brexit is more likely than ever
Jul 26, 2019 08:53 am UTC| Insights & Views
Boris Johnsons appointment of a cabinet full of Brexit hardliners will be alarming for anybody concerned about the possibility of a no-deal Brexit, and the stewardship of the UKs economy and public services. But its not...
Brexit: how both sides of the political divide have co-opted the 'left behind' North to fuel their agendas
Jun 23, 2019 14:28 pm UTC| Insights & Views Politics
There has been a tendency in British public discourse since the 2016 referendum on EU membership to identify the residents of Northern England as the principal culprits of the Brexit vote. Given that, in a direct,...