The Google walkout is a watershed moment in 21st century labour activism
Nov 08, 2018 16:43 pm UTC| Insights & Views Politics
That 20,000 Google employees walked off the job last week is a watershed event, a hugely significant symbolic development for labour relations in the 21st century. Granted, the action itself was limited. More than seven...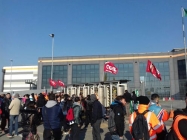 Tech innovators start to see old-fashioned benefits of collective bargaining
Jul 19, 2018 13:55 pm UTC| Insights & Views Technology
Disruption has been a defining buzzword of this decade, as companies in nearly all sectors find themselves challenged or supplanted as a result of the impact of technology. The beneficiaries of this disruption have mostly...