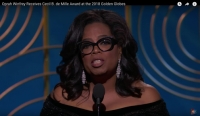 Would America vote for Oprah for president?
Apr 17, 2018 14:16 pm UTC| Insights & Views Politics
America has had a black president. Is the country ready for a black president who is also a woman? Speculation about the candidacy of Oprah Winfrey makes clear that some voters think so. Granted, Winfrey says she...