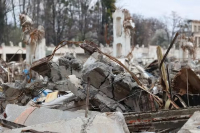 Ukraine war: Russian shelling is taking a deadly toll on urban bats
Oct 02, 2023 06:25 am UTC| Politics
Russias invasion of Ukraine in February 2022 has given rise to a humanitarian crisis. More than 6.2 million people have fled Ukraine as a result of heavy shelling and fighting, and an additional 5.1 million people have...
Solar farms a 'blight on the landscape'? Research shows they can benefit wildlife
Oct 16, 2022 13:38 pm UTC| Business
Liz Truss, the new UK prime minister, isnt a fan of solar farms. In 2014, when she was environment secretary, she described rows of panels arranged in a field to capture energy from the sun as a blight on the landscape....