The tree of life has been a powerful image in Jewish tradition for thousands of years – signifying much more than immortality
Jun 21, 2023 07:22 am UTC| Insights & Views Life
After weeks of wrenching testimony, jurors delivered a guilty verdict June 16, 2023, for the gunman who killed 11 worshippers in a Pittsburgh synagogue in 2018 the deadliest antisemitic attack in U.S. history. The next...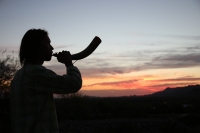 A virtual Passover may be the first for many, but Judaism has a long history of ritual innovation
Apr 08, 2020 12:45 pm UTC| Insights & Views
As the coronavirus pandemic spreads across the globe, it is affecting how families celebrate important religious events such as Easter, Passover and Ramadan, which would normally involve the gathering of families. For...