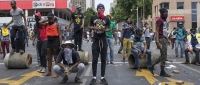 What's behind violence in South Africa: a sociologist's perspective
Jan 18, 2020 11:49 am UTC| Insights & Views Life
The 2018 Global Peace Index listed South Africa as one of the most violent and dangerous places on earth, and getting worse. South Africa has a long history of violence. It was used as a tool of power and governance by...
The army is being used to fight Cape Town's gangs. Why it's a bad idea
Jul 18, 2019 23:37 pm UTC| Insights & Views Law
Following the latest spate of murders on the notorious Cape Flats in the Cape Town, the South African government has decided to send in the army. The move has been welcomed by many who want to see an end to the rampant...